Date Published: 20/06/2022
ARCHIVED

- Warm weather leads to more swarms of bees and hives in Lorca
Would you know what to do if you found a beehive or spotted a swarm of bees? Here's the humane way to deal with bees…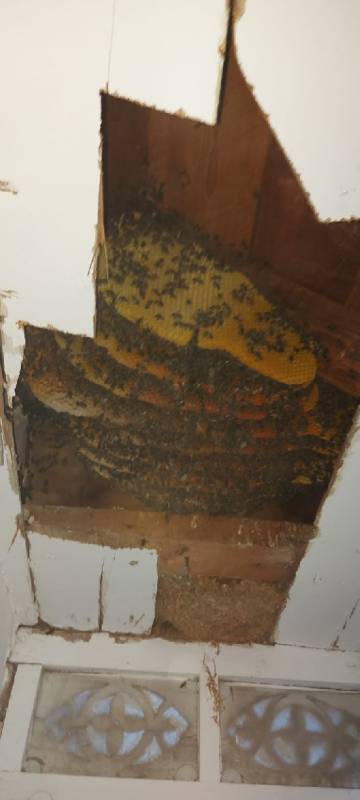 12 honeycombs from bees have been removed by apiculture specialists from a balcony overlooking Calle Selgas in
Lorca
in a municipal operation to rid the building of the stinging insects.
Lorca's Councillor for Public Safety, José Luis Ruiz Guillén, reported that the removal of the 12 honeycombs meant moving around 2,000 individual bees from the infested balcony.
"In recent days, a service has been carried out to remove a multitude of bees from a balcony of a building on Calle Selgas, thanks to the invaluable collaboration of a beekeeper who helped in the removal, as well as the existing wax, honey and the multitude of eggs," said Councillor Ruiz Guillén.
He also pointed out that "the existence of these honeycombs had caused great harm to the residents of this central area, as for several days they were unable to open their balconies and windows until this problem was solved."
A few weeks ago, the authorities in Lorca also proceeded to remove several swarms of bees that appeared in public places and also in buildings such as in the Ana Caicedo Richard School, in an olive tree in the Virgen de las Huertas and on the facade of a building in the district of La Viña.
In response to these cases, the Department of Health in Lorca has now sent out a general reminder of the basic recommendations for anyone who detects the appearance of swarms of bees in public and private places in the municipality so that they can be removed by professionals.
Over the last couple of months, thanks to the warm weather in Lorca and the rest of Spain, there have been more cases of swarms of bees appearing in the town, so it is necessary to remember how to act if you see a swarm or a beehive.
This job must be carried out by a specialist in dealing with bees and wasps due to the danger of their stings and the protection of the species. This is according to Law 42/2007, of 13 December, on Natural Heritage and Biodiversity, which states that because bees are a protected species, in the event of sightings of this type it is essential to notify the Health Department.
The principle of collecting a swarm is based on collecting the queen that accompanies it, as this will ensure that the bees do not want to relocate to the original site. After collection, the swarms are placed in hives in their final location, accompanied by stamped wax and food and, in a short time, these are transformed into healthy and productive hives.
If you detect the presence of a swarm of bees in a public place in Lorca, you can contact the local Health Department between the hours of 8am and 3pm on +34 968 46 65 42 and, thanks to the collaboration of a network of volunteer beekeepers, they will come to collect the swarm and take it away without harming any of the animals.
Image: Ayuntamiento de Lorca
Contact Murcia Today: Editorial 966 260 896 / Office 968 018 268