September 19-24 Flamenco Week in Alhama de Murcia
ARCHIVED ARTICLE
-
There will be evening flamenco music, dancing (and juggling!) performances all week, including at Alhama Signature Golf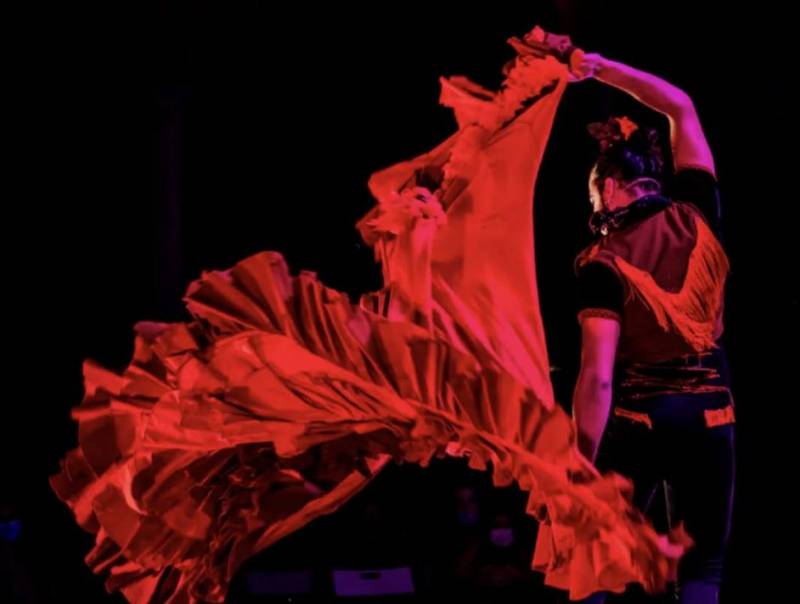 The Semana Flamenca de
Alhama de Murcia
returns for its 7th edition this year, with a bursting programme of events taking place from September 19 to 24. For followers and fans of flamenco music and dancing in Spain, this will be an unmissable week of performances, starring such artists as Jorge Pardo, José de los Camarones, Artomático, Carmen Xía, Andreh and Manuela, The Gardener and Cía. Chicharrón.
Alhama Mayor, María Cánovas, stated, "The festival has established itself at the national level as one of the focal points for the latest musical trends linked to flamenco, which in this edition continues with its spirit to offer avant-garde proposals that have never before been enjoyed in the Region of Murcia."
These special additions to the Flamenco Week, above and beyond mere concerts, include the programming of night-time activities, and the artists will also visit the Las Flotas Therapeutic Center, the Sagrada Familia Senior Citizens Day Center, the Las Salinas Disability and Psychosocial Care centers in Alhama de Murcia, the town's Music School and the Campos Del Río penitentiary to be able to bring their music to everyone.
Alhama Flamenco Week schedule 2023
NOTE: All the activities included in the program of the VII Alhama de Murcia Flamenco Week are free. For events that take place at the Teatro Cine Velasco, you will need to pick up tickets at the Los Baños Museum, which is open from Tuesday to Sunday 10am-2pm and 4pm-8pm, or Sundays 10am-2pm.
Tuesday September 19
6pm: Screening of the film 'Trance' at the Alhama Casa de Cultura, detailing a journey to the heart of flamenco music by Jorge Pardo, an essential artist to understand the evolution of contemporary flamenco. For two years, director Emilio Belmonte and his team accompanied the legendary flutist and saxophonist of Paco de Lucía's sextet on his travels around the world to meet exceptional musicians such as Chick Corea, Niño Josele, Duquende, Farruquito, Sara Baras and Ana Morales in order to organise a very special concert. The film shows the figure of the artist and the person, showing a multi-faceted portrait of the character. After the screening, a discussion will take place with the film's protagonist, Jorge Pardo, who will chat with the attendees.
9pm: Falamenco show 'Sin Ojana', by Cía. Chicharrón at Alhama Signature Golf, which fuses the rhythms and beats of Flamenco with juggling.

NOTE: Change of venue—due to adverse weather, this event will now be held at the Teatro Cine Velsaco.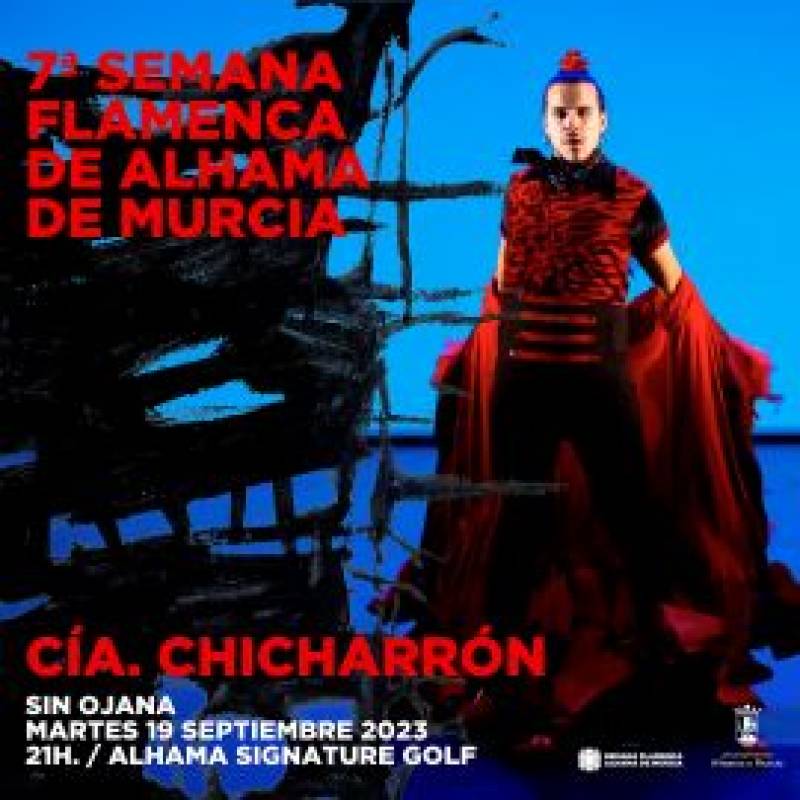 Wednesday September 20
9pm: At the Teatro Cine Velasco, the winner of the award for Best European Jazz Musician (2013) and National Prize for Current Music (2015), Jorge Pardo, will take to the stage alongside the guitarist Melón Jiménez and the percussionist Bandolero to offer the show 'Trance Trío'. Jorge Pardo's mestizo musical language, between roots jazz and flamenco, and his personal style with the flute and saxophone, is considered a reference of musical innovation. Diego Carrasco, Paco de Lucía and Camarón introduced this great artist to the world of flamenco, from there, Pardo created his own and unmistakable language.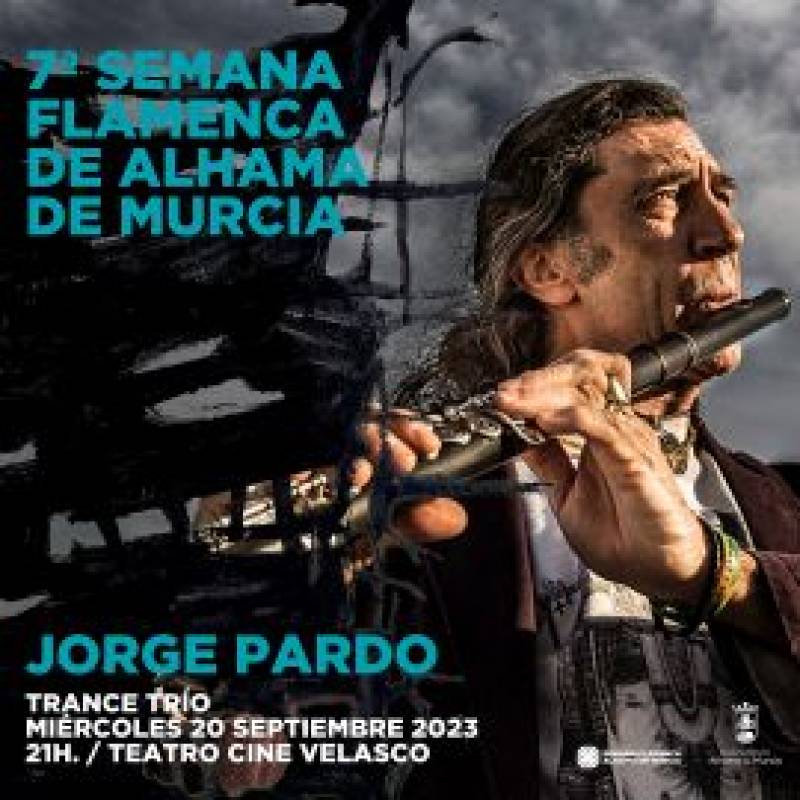 Thursday September 21
6pm: Murcia premiere of the film 'Alma Quebrada', directed by Gonzalo García Pelayo, at the Casa de la Cultura. Attendees will be able to enjoy a discussion with one of its protagonists, José de los Camarones. Translating as 'Broken Soul', this is a film full of light and music; a journey through flamenco culture whose inadvertent pride is that of a man who has always disbelieved in the dictates with which cinema becomes virtuous and fatally innocuous.
9pm: At the Teatro Cine Velasco, José de los Camarones will present his show 'Anclé mi alma'. In this project, which translates as 'I anchored my soul', José Galán faces a double search: on the one hand, an inner journey full of loving and mystical poetry, alternating his own lyrics with poems by Cavafis, Neruda and Chipi 'La Canalla'. A fascinating sound journey from a singer who started off as a street seafood vendor when he was a child and is now a star sought after even by Gucci, a brand for which he has posed.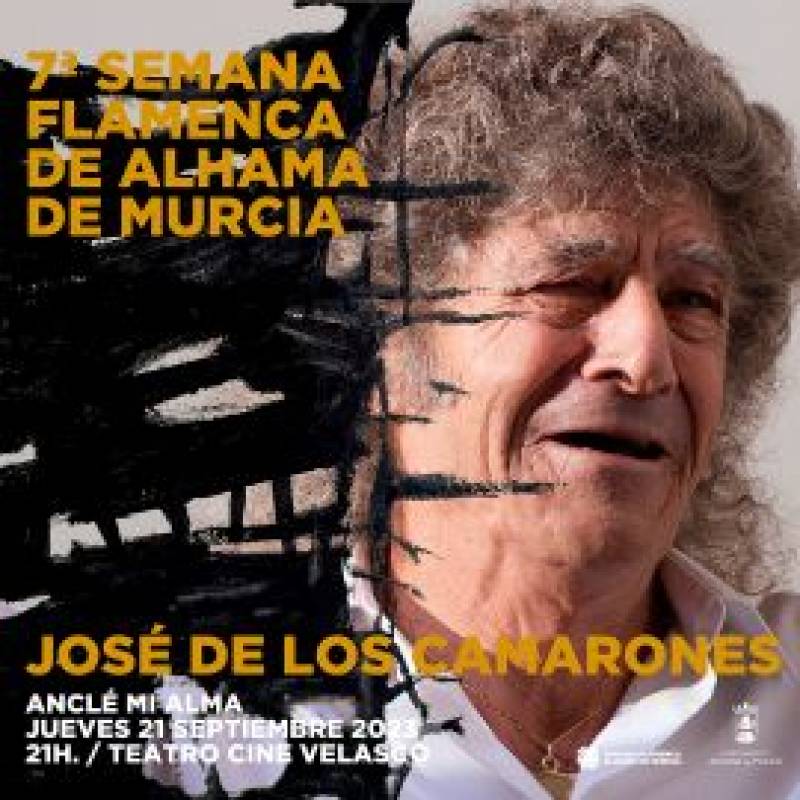 Friday September 22
9pm: Carmen Xía and Suizo Tarik present their latest work 'La Herida' at the Teatro Cine Velasco. Xía is one of the protagonists of the coplero hip hop genre. She was inspired by the flamenco music of her land and by contemporary rappers like Gata Cattana, the artist. She captures the fight for working women and the LGTBI collective in her lyrics written in the unofficial standard spelling for Andalusian (Êttandâ pal andalûh), which reflects the Andalusian dialects. The success of her first single Orguyoça de ella, released in 2021, pushed her to continue on the path of music. A year later, she published her second album, which will be the one she will present in Alhama. La Herida is a work of 11 cuts that combines Andalusian tradition and avant-garde in the same beat. The cry of a lost youth that reconciles with its past, fighting with tenderness and rage against the stereotype.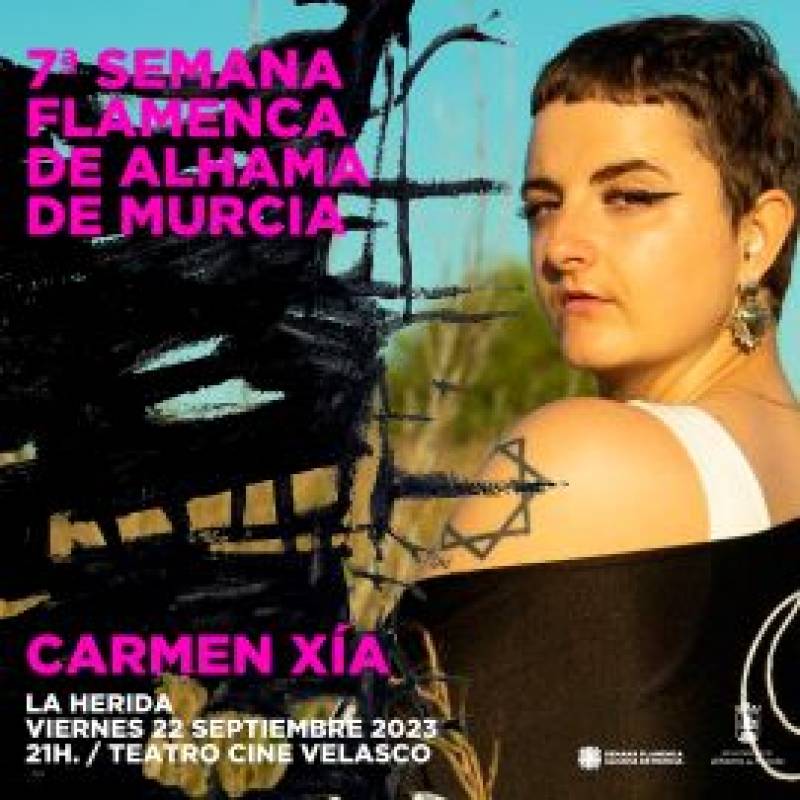 Saturday September 23
9pm: Once again at the Teatro Cine Velasco, the festival will continue with the performance of Andreh and Manuela, two of the alter-egos of Andrea Santalusía and The Gardener, Andalusian artists from the Sevillian underground scene, with different routes but the same idiosyncrasy. Their paths crossed in 2020 when they began to forge 'La verdá en la tierra', a project that mixes electronics and medieval Andalusian poetry to build a work full of sound experimentation in its form and full of poetry and history in its content. The process of musical experimentation also took them along different cultural paths and their traditional music, from Andalusia to Morocco, Bulgaria, Siberia, Iran, Japan, Scandinavia, Sahara, Cuba, Mexico, Guatemala, Chile, Peru and more.
Midnight: At the Mercado de Abastos, the traditional late night flamenco show will take place with a session by The Gardener. Manuel Chaparro is promoter and DJ, linked to the world of music and Sevillian culture for more than a decade. After a long career, he began to be known for his transgressive relationship with flamenco, identified for mixing cante jondo and club music in his performances and productions, always with respect and little shame. Andalusian tradition and advanced sounds that are forged in his first three EPs (Nube Negra, Felah Mencub and Mawt Rihla) all of them published on Breaking Bass Records, and accompanied by other artists such as SKLT SLKT, Stay Puft or Industrias94. With this, the figure of The Gardener becomes one of the main precursors of a new trend that combines flamenco and electronic music in Andalusia, and whose final culmination is the formation with other Andalusian producers of the group Califato 3⁄4 in 2018.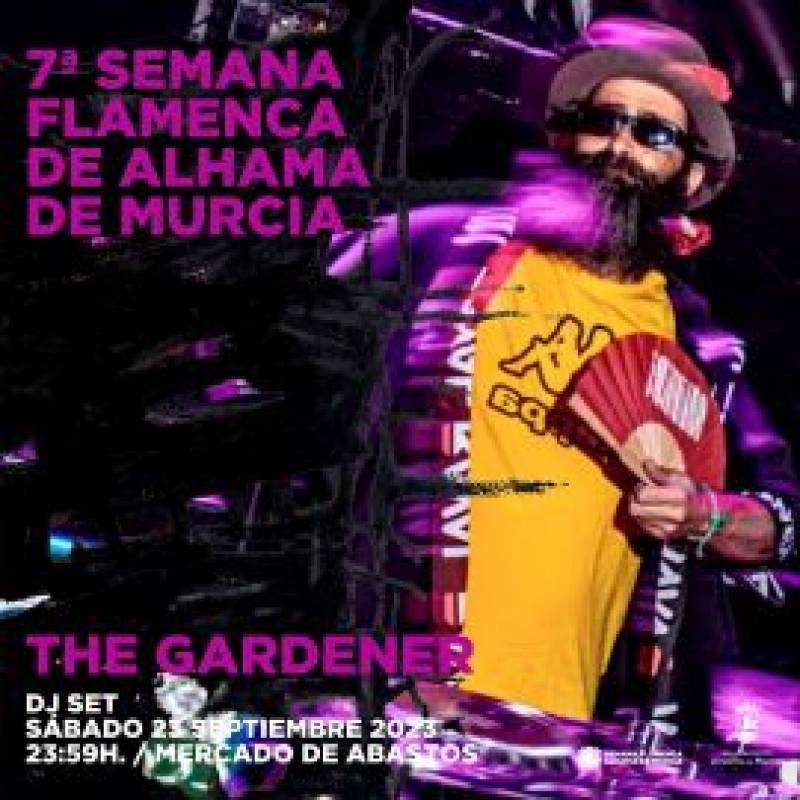 Sunday September 24
9pm: The festival closes at the Teatro Cine Velasco with the show 'Electroflamenco 3.0' by Artomático. The electronic music and flamenco project of the musician Daniel Muñoz, which became a studio work with live performance as its origin… and as its destination.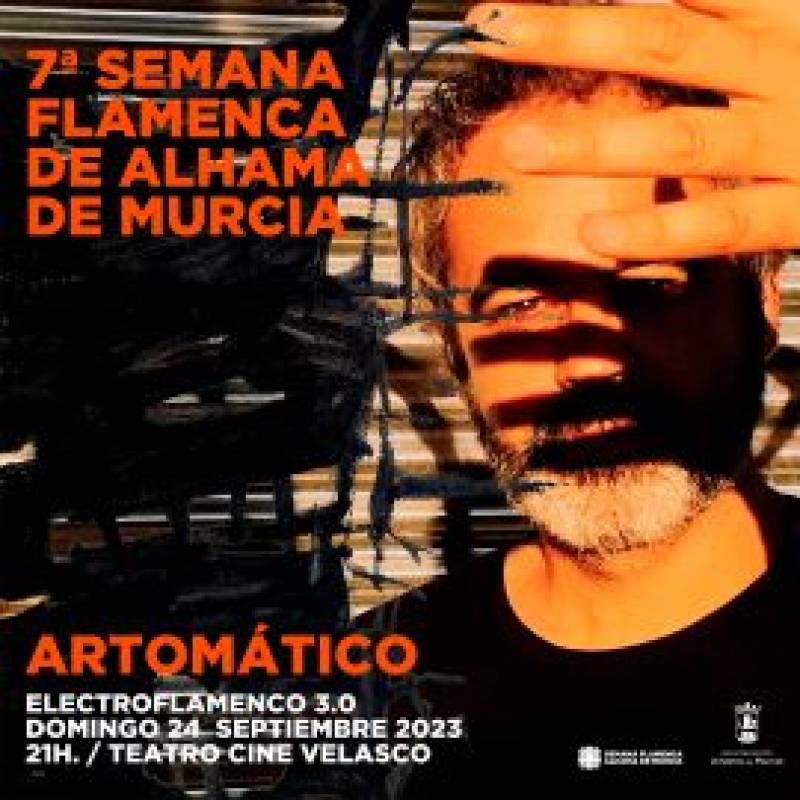 Image: Ayuntamiento de Alhama de Murcia
article_detail
Address
Tourist Office Alhama de Murcia, Plaza Constitucion. Frente Auditorio, nº 10, 30840, ALHAMA DE MURCIA
Tel: 968 633 512

Oficina de Turismo de Alhama de Murcia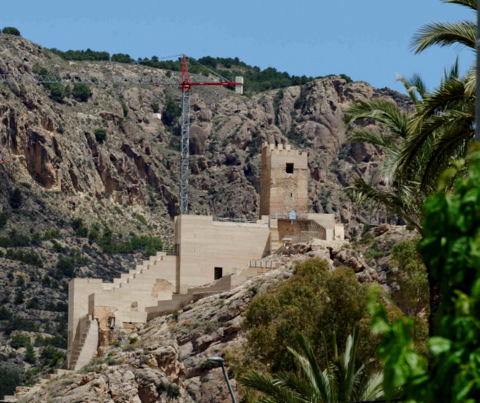 Alhama de Murcia Tourist information office is located on the edge of the Plaza de la Constitución, just a few metres away from the underground car park and the Town hall of Alhama de Murcia.
The tourist office offers free guided audiotours in English which take visitors around the historical sites of interest in Alhama. These be loaned at any time, although allow an hour and a half to complete the tour, and when loaning the audio equipment visitors are asked to leave passports or ID cards with the tourist office.
The office also carries a full range of leaflets for the archaeological museum of Los Baños, which is built around the historic spa which gives Alhama its name, and the mountains of Sierra Espuña, which is also an important area within the municipality of Alhama. Areas such as El Berro and Gebas have a number of interesting routes which can be followed and there are several picnic areas and good walking routes within the Sierra Espuña natural park.
The tourist office also carries leaflets for the many cultural events and fiestas which take place in Alhama throughout the year, including Los Mayos, Semana Santa, Christmas,the Romería of La Candelaria and the Auto de los Reyes Magos in El Berro.
Opening Hours
Winter (September 16 – May 31)
Tuesday to Friday: 9am-2pm and 4.30pm-7.30pm
Saturdays: 10am-1pm
Sundays and Mondays: closed
Summer (June 1 to September 15)
Tuesday to Friday: 9.30am-2.30pm
Saturdays: 10am-1pm
Sundays and Mondays: closed
For more local information, including news and forthcoming events, visit the home page of Alhama Today.
article_detail
Contact Murcia Today: Editorial 966 260 896 / Office 968 018 268