Rambla de El Cañar, Isla Plana-Tallante
A 7km walk along the Rambla del Cañar, Tallante-Isla Plana, PR-15
Level: Easy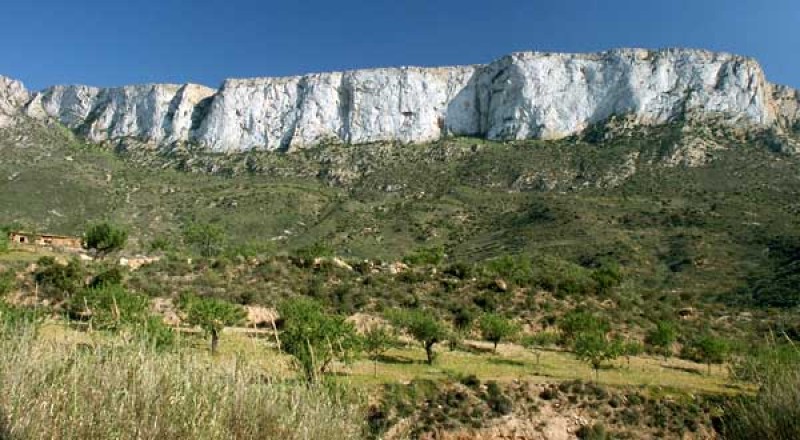 The rambla, a floodwater channel which is usually dry, runs from the coast at Isla Plana through inland to the village of Tallante, and the route is classified as the PR-15. It features spectacular landscapes and beds of cañas, or bamboo reeds.
What makes this walk so spectacular is that it runs along the foot of the majestic Lomas de las Carrascas, the Peñas Blancas, a distinctive white vertical escarpment which can be seen across the flatlands of the Cartagena campo from many kilometres away.The walk is lined with dry farmland, canes and small cottages, set in a mountainous landscape. In the spring almond trees are in blossom and as the area is still farmed by local residents it's quite normal to encounter a flock of sheep or goats en route.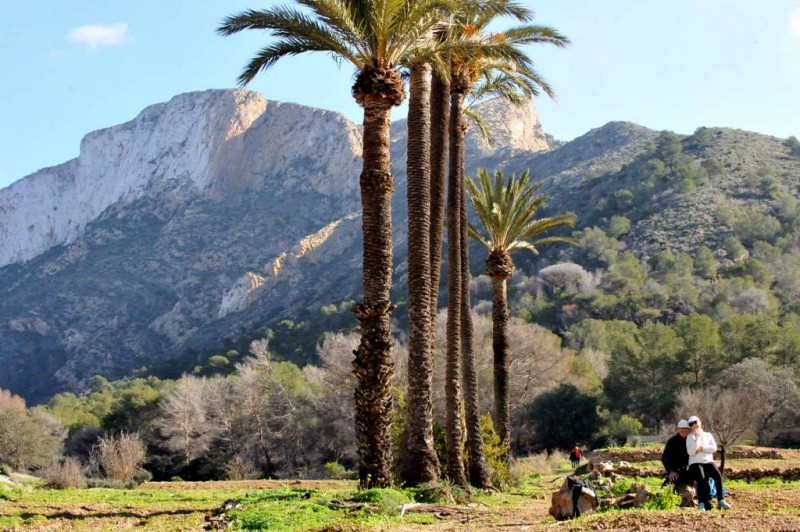 The walk is 7 kilometres long, it can be adapted to suit the weather and energy levels, a short distance or a full return route, with sun and shade along the route.There are plenty of places to park up, so to a certain extent visitors can choose to walk as much or as little as they want.
This walk falls within the municipality of Cartagena but is very popular with visitors to the Mazarrón area.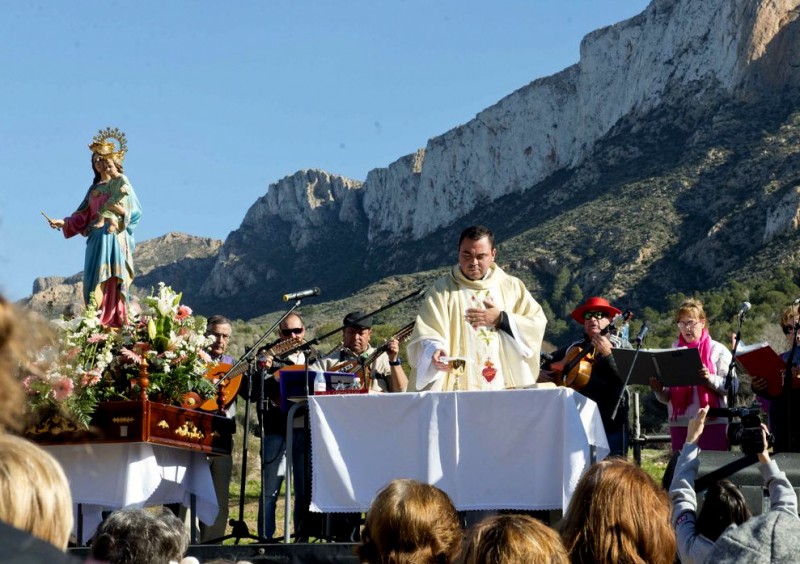 The main entrance to the Rambla from the coast is through a patch of tomato greenhouses on the main road running along the coast between Isla Plana and La Azohía, turning left into the tomato fields just before the turning right to La Azohía. The road is tarmac through the greenhouses, then becomes an earth track as it enters the Rambla itself.
As a rambla is a natural waterway, the condition of the track can vary depending on the volume of rain. During the winter months when there has been a significant volume of rain, parts of the track run with water, but for the main part, the valley is dry but bumpy.
Various people live along the course of the Rambla and use it as the entry to their homes, so the track is generally kept in reasonable condition, but if you are particular about your vehicle then park up once the track becomes a little rougher!
El Cañar is the location for the Romería de la Luz, which takes place every year on the first Sunday following the Three Kings celebrations on 6th January.
Click here for link to map and information about the Romería of El Cañar, or head to the home page of Mazarrón Today for more local information.
article_detail
Sights to see in Mazarrón
article_detail
Contact Murcia Today: Editorial 966 260 896 / Office 968 018 268