Aguilas beaches: Playa de la Casica Verde
A Blue Flag flies at the new beach at the western end of the town of Águilas
The beach known as La Casica Verde in Águilas is at the western end of the town, just to the west of the Puerto Deportivo Juan Montiel, and lies in the curve formed by the harbor wall of the marina. In 2018 it was awarded Blue Flag status for the first time in recognition of improvements made to the services, and the status was maintained in 2019.
It is the tenth beach in the series of 36 Águilas beaches which run along the 28 kilometres of Águilas coast, working from the Almería coastline in the west down to the Lorca municipality.
The Playa de la Casica Verde consists of a long stretch of sand which has accumulated in this semi-artificial bay, and provides excellent sunbathing and swimming conditions for visitors. Parking opportunities are ample on the waste ground behind the sand, but this is not an entirely rural location: at the eastern end of the beach is the built up area behind the marina, where a couple of bars and shops are close at hand for those who don't opt for a picnic on the beach.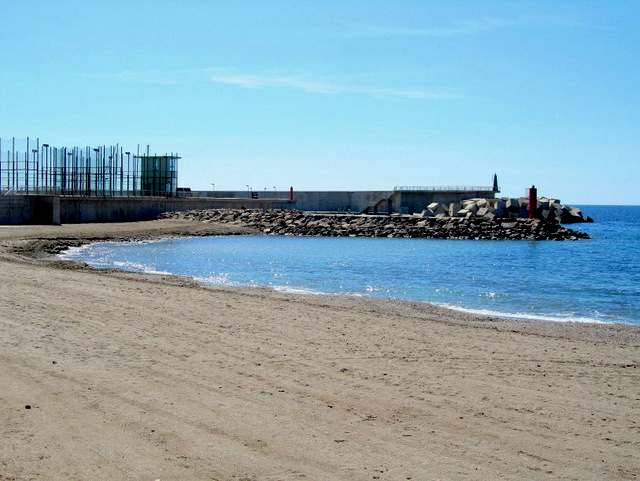 In the way of services and facilities there used to be little to speak of at the Playa de la Casica Verde, but rubbish bins are provided. This is, however, a new beach, the result of the regeneration which came along with the construction of the marina, and further facilities have added to make the most of the wide and attractive stretch of sand.
There are a wide range of sporting services available in this corner of the municipality, the Hotel Juan Montiel offering a range of sporting courses and sporting options.
The easiest access to the beach is via the wasteland at the western end of the Calle Iberia which leads out of the town of Águilas towards Calarreona and the province of Almería where there is a series of "wilder" beaches.
More information about Águilas including beaches, what to see, what's on and tourist information can be found on ÁGUILAS TODAY
Contact Murcia Today: Editorial 966 260 896 / Office 968 018 268